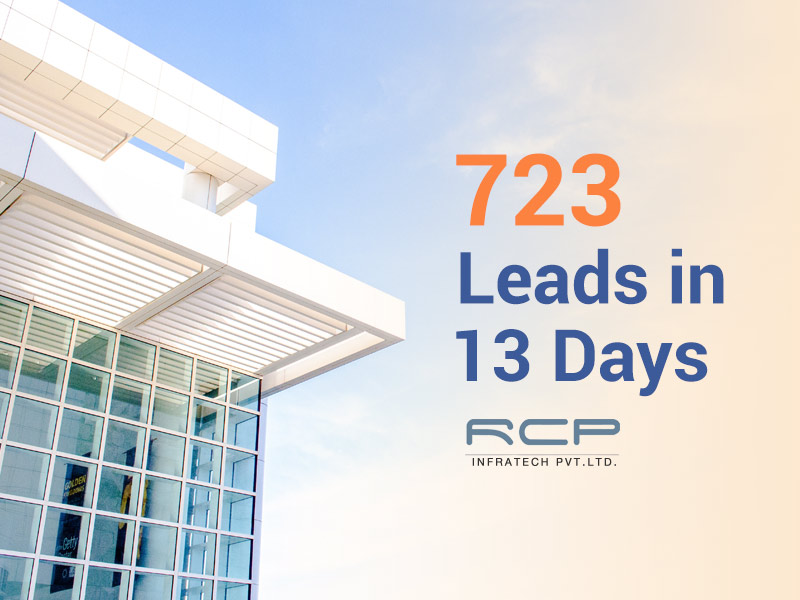 "Our flagship residential project was being launched and we needed quality leads. We were initially not very sure if Digital Marketing could do the needful but since we also wanted to enhance our online presence we gave it a shot. We contacted Konsole Group for this task and they've truly exceeded the expectations! We got an overwhelming response generating hundreds and hundreds of High-Quality Leads. Thanks to Konsole Group."
RAKESH PANDEY
Director, RCP Infratech Pvt. Ltd.
Raipur
Did you know that over 50 million businesses in India use Facebook Marketing for their business? It is one of the fastest, easiest and cost-effective way to promote and market your business.
Believe it or not, Facebook Marketing when done strategically, can help you achieve business goals within as less as 15 days! With a limited budget, you can test, try and then spend.
Why Facebook Marketing?
As per statistics, 67% of the Facebook users are from Tier 2 and Tier 3 Cities – which is contrary to popular perception. Breaking the stereotype perception, Facebook Marketing has proved to give spectacular results for almost every form of business, from Educational Services to Real Estate to Hospitality and even Health care.
Usually buyers look forward to a more personal buying-experience on high monetary value purchases. For B2B businesses, Digital Marketing poses greater impact on Branding and Lead Generation and does not directly impact sales.
How did we execute it for our client?
Having served 3000+ clients in the past 10 years, we would like to share success story of one of our clients running a Real Estate business in Raipur, Chhattisgarh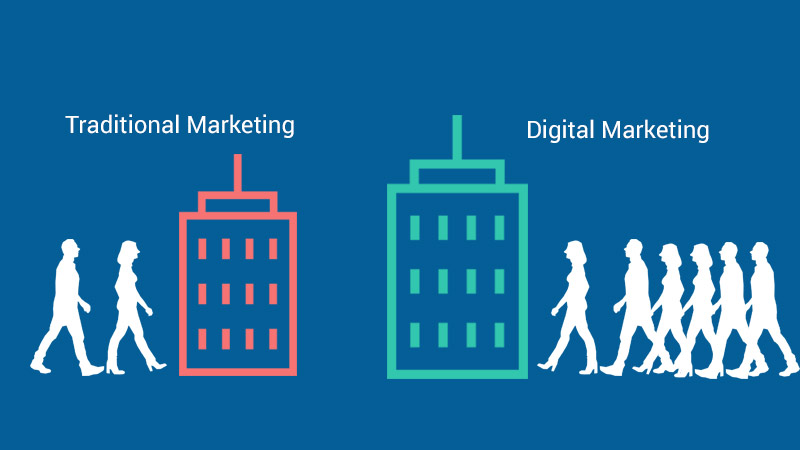 Utilisation of Digital Marketing Platforms in Real Estate sector has resulted in remarkable increase in the number of quality leads. The property sellers get abundant opportunities to convert the potential audiences into future clients.
About the client 
RCP Infratech Pvt. Ltd. works to develop high-quality real estate projects in Raipur. Their project VIP City which is the first integrated township of central India offered ultra-modern amenities and panoramic views to their customers.
Apart from building houses, they also help purchasing it by providing financial assistance. They've been awarded by State Bank of India, for providing exceptional assistance to customers when it comes to housing loans. With this information we had to proceed with their branding.
Marketing Requirement
Earlier, RCP Infratech advertised its projects only through newspapers right before their launch. Being aware about us as the leading digital marketing company in Raipur, they approached Konsole Group to promote and market their project "VIP City" and generate leads for sale of apartments in VIP City.
Being a Real Estate company, all the marketing was directed towards generating leads than on direct conversion. It was a 15-day campaign with extensive branding of the project that gained 723 leads.
Target Customers
We targeted people belonging to the upper-middle class in the entire state of Chhattisgarh. This was possible as Facebook is 85% accurate and when further information like age and gender (demographics) is included, the accuracy rate goes up to 90%.
Location : Chhattisgarh
Age Group : 25 to 60 years
Gender : All
Solution Proposed
Create awareness of the project v

ia Facebook posts
To reach the potential buyers and create an engagement
To generate high quality leads
Strategies Adopted
Consistently posting on their page every day

Post Segregation

Based on Post Engagement

Based on Lead Generation

Using Hindi language to communicate
Campaigns that we executed
Creating buzz amongst the audience with 'Flat Carnival Surprise' post
Introduction of "My Bid, My Flat"
Daily posts describing their theme and offers
Introducing a pair of

'Robots'

for guests' welcome at the event for the first time in India.
The winner of

"My Bid, My Flat"

was announced on the same day by Mr. Rakesh Pandey, Director of RCP Infratech Pvt Ltd.  
Promoting creatives for lead generation
Introducing 'Selfie with Robot Contest'
Introductory Post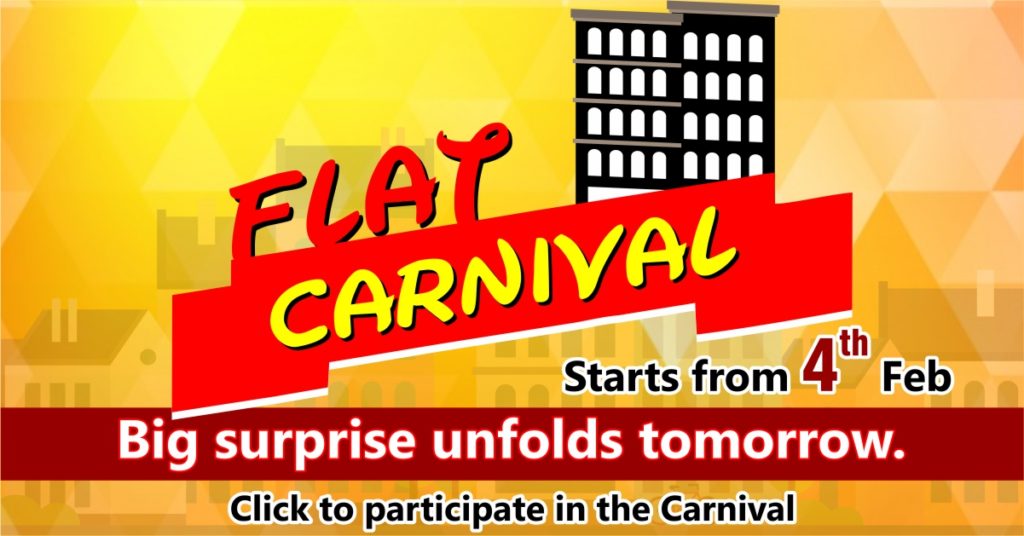 This was the introductory post of the campaign that targeted high engagement for the upcoming campaign. We even collected 26 leads on the very first post.
Introduction of "My Bid, My Flat"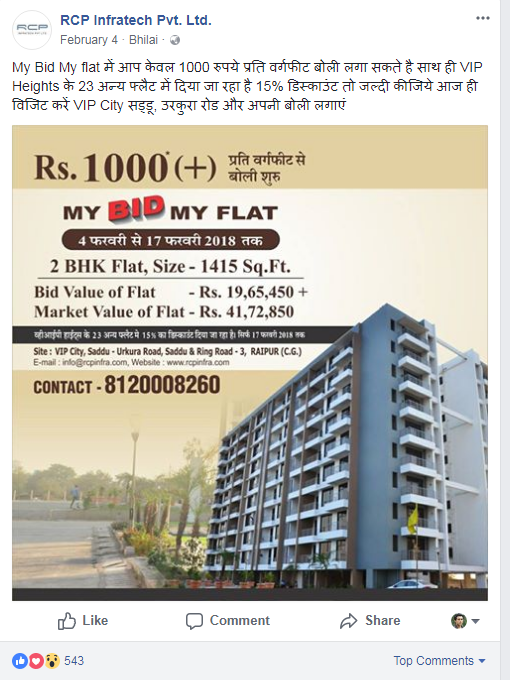 Post unveiling the idea of bidding a flat that was organised for the first time in Chhattisgarh. Also, 15% discount on 23 other flats was offered by them.
Lead Generation Campaign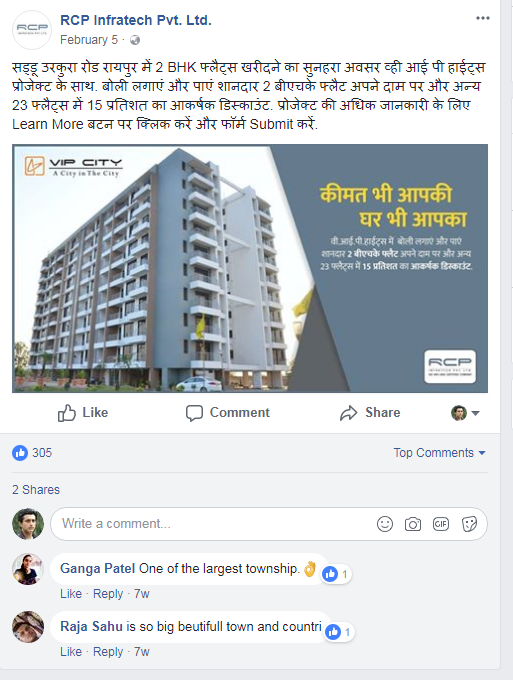 We ran two campaigns with a motive to provide adequate details regarding the flats and accumulate leads.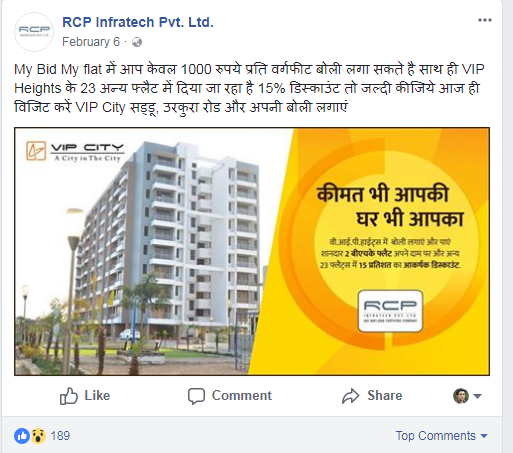 Consistent Posts For Awareness
Vernacular ads are your best bet when it comes to lead generation and marketing your brand. We emphasized on using Hindi language more in our posts in order to connect well with the audience of Chhattisgarh.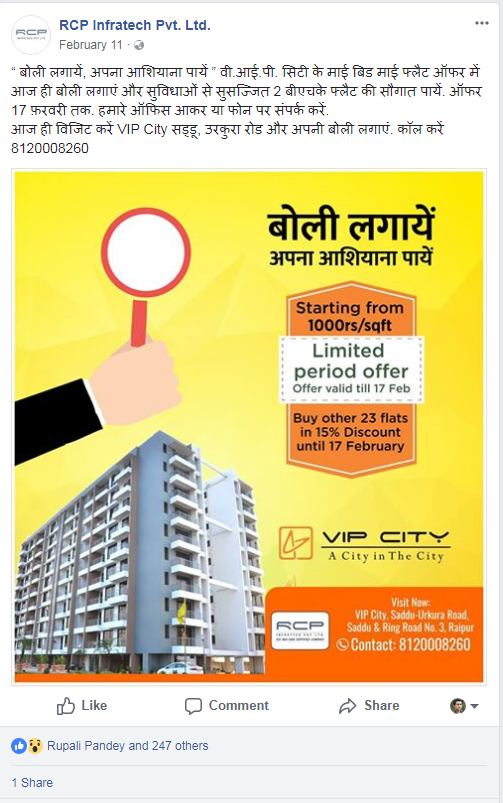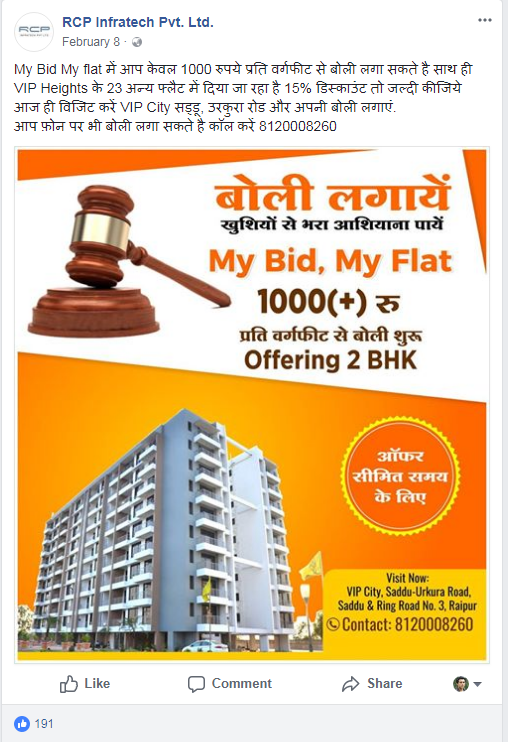 Informative Post about Robots at VIP City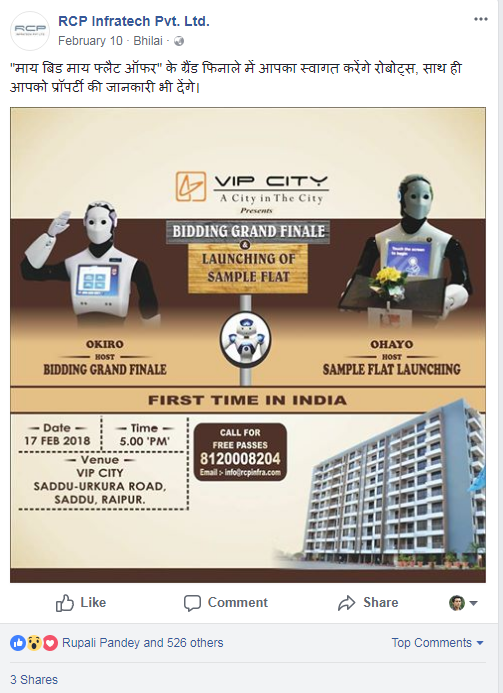 Guests at the MyBid – MyFlat event were welcomed by Robots – OKIRO & OHAYO. We achieved tremendous engagement with this post which also created buzz, for sure.
Contest Post – #SelfieWithRobo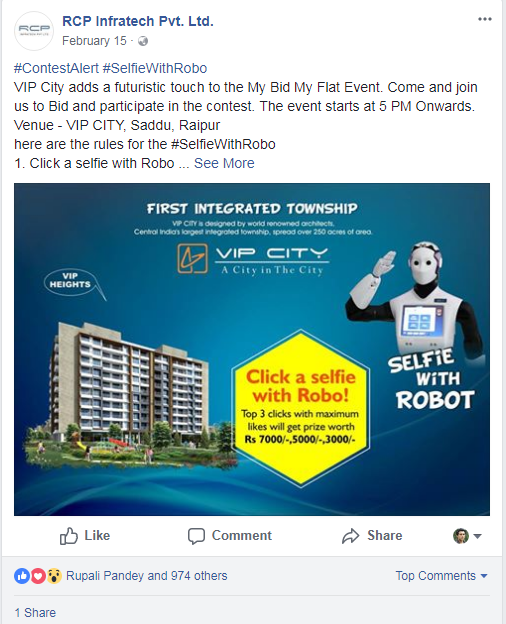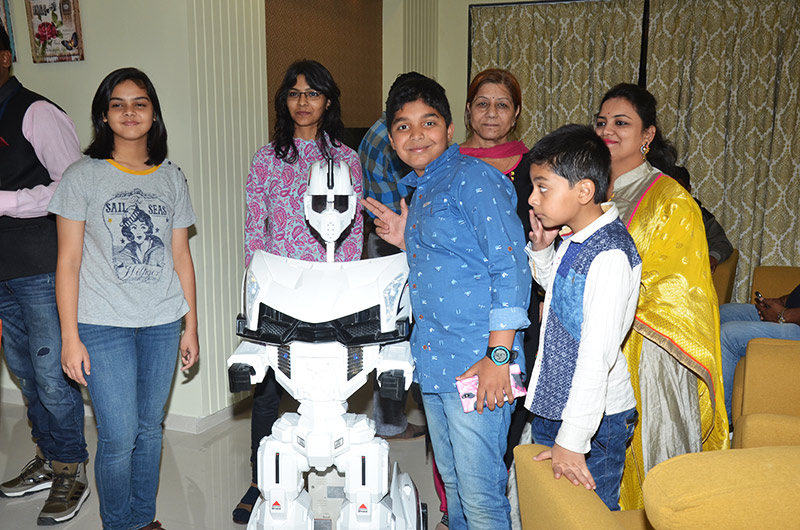 Embracing the fantastic opportunity to create further excitement about the aforementioned event, we decided to come up with a contest – Selfie with Robot where guests had to click a selfie with robot at VIP City and top 3 clicks with maximum likes were to be awarded with attractive prizes.
Final Push – Post for concluding the campaign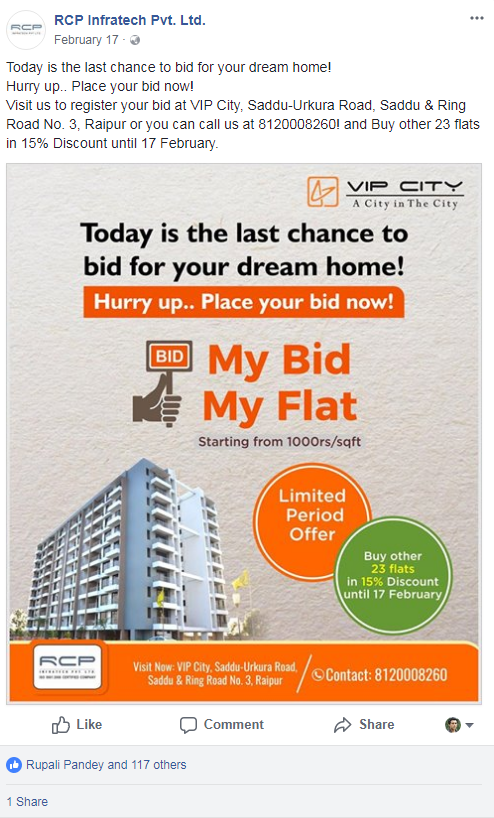 Last communication was made targeting the interested buyers via above post.
Result
As a result, the Facebook Marketing campaign helped us yield 723 leads with a reach of over 136,894 and impressions upto 255,017, all in just 15 days! And, a complimentary enhanced Brand Image of the company.

The following two tabs change content below.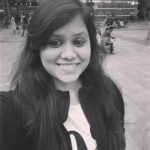 Urja Agrawal
Urja is a Digital Marketer who is currently working and exploring herself in Konsole Group. She loves to be around people, talk and learn from them. She also listens to podcasts, clicks pictures and reads books.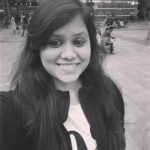 Latest posts by Urja Agrawal (see all)