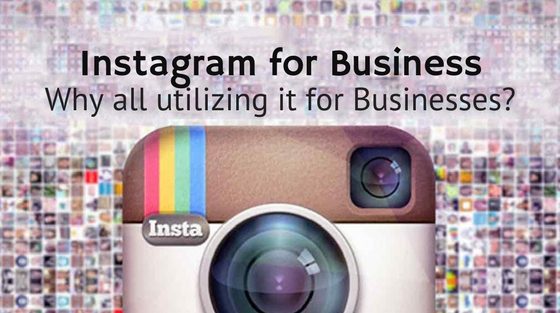 Instagram for Business
Instagram is a powerful and amazing platform for creating the visual content for business promotions. It's much more than using it easily for photo editing tools.Through Instagram you can promote your products & business. It helps you to connect with your customers and has great potential for marketers.
While there aren't the same number of features accessible with an Instagram business account contrasted with business profiles on Facebook, Pinterest, LinkedIn, and different social media platforms, your business ought to do the switch when given the open door.
Here are some unexpected benefits to consider for your business:
1.Fastest Growing Social Network:
In business, it's beneficial and important to adapt changes according to trends. Instagram is the most trending social media platform for promoting business. It is very popular among youngsters. If your targeted customers are under 30 age group, then Instagram can be best for your business promotions.
2.Visual Marketing Opportunities:
We can clearly observe the increasing popularity of Instagram, user love the photos and video's media (Rich Media). In last few years, visual marketing has become one of the most important and interesting facts of digital marketing. Instagram is all about the photos and videos which make it a visual marketer's dream platform. Rather than connecting verbally with your customers or convincing consumers to try your product, Instagram allows you to clearly describe the benefits of the product or your business through the Visual Content.
One of the qualities of Instagram which make it better from Facebook is that, if a user follows your account on Instagram, your posts are always visible in their Insta feed.
If you post a photo to Instagram, as long as the user scroll far enough down in their Insta feed, your photo will always be there for them to see the photo
3.A Personality for Your Brand:
Photos and video posts connect with users emotion deeply. When you touch users emotion they start liking your brand. Instagram is the ideal place to create your personality and to create grand impression of your brand regardless of what product you are offering to use and what audience you are trying to reach
For example, if you have pet shop, you can use Instagram to share pictures of cats, dogs and other pets and attract pet loving customers.
Instagram is perfect platform to share fabs of your brand and making people aware about your brand.
4.Instagrammers Like to Connect with Brands:
Instagram, brands enjoy regular engagement with 4 percent of their total followers. On networks like Facebook and Twitter, engagement is less than 0.1 percent. (source: Forrester)
70% of Instagram users report having looked up a brand on the platform (source: Iconosquare)
62% of users follow a brand on Instagram (source: Iconosquare)
Only 36 percent of marketers use Instagram, compared to 93% of marketers who use Facebook (source: Self-starter)
5.Connect with Customers:
Majority of people think that Facebook and Twitter are more connected with fans and followers but reality is bit different. Instagram is the most customer engaging and active platform. According to a report from Forrester, Instagram generates 120 times more engagement per follower than twitter because most of the people love to connect with visual media
With such a huge engagement, Instagram is unique and amazing way to connect with the users, listen to their replies and build the relationship through the conversation !!
You can share photos videos of the product and ask for the feedback of your product.
6.Reach New Audiences:
Instagram makes so easy to discover new photos, people, and businesses.One of the most common ways to find content on Instagram is using Hashtags similar to other social media platforms when you use a hashtag in your post. Instagram created a link similar to hashtag so that you can view all the posts similar to that hashtags.
In addition to hashtags, Instagram has also a Discover Tab, which helps user to find photos and videos and connect with users that are similar to them.
What Marketers are Saying About Instagram
The numbers and research are always sounded great, but what about the marketers??
The persons who use the Instagram to promote their business- actually, what they think about the platform?? Here's what marketers from brand like Birchbox, Ben & Jerry's have to say about it.
Mike Hayes, Digital Marketing Manager of Ben & Jerry's
: "Since its launch, Instagram has provided us with an amazing platform to connect with our fans and tell our story visually."
Jessica Lauria, Director of Brand Communications Chobani
: "Instagram is a great platform for Chobani. It allows us to show how people actually use our product and inspires new ways to savor."
Rachel Jo Silver, Director, Social Marketing & Content Strategy, Birchbox
: "Instagram has been an incredibly effective engagement-driver among our current customers."
Who Should Use It?
Here is some research on the users of Instagram if your product is for them then you should join Instagram Business for promoting your product and services.
Age and gender of internet users on Instagram
Half of internet users of young adults age group (18-29) i.e 53% use Instagram. Here are some research on users of Instagram on different age groups.
53% of 18–29 year olds use Instagram.
25% of 30–49 year olds use Instagram.
11% of 50–64 year olds use Instagram.
6% of people 65+ use Instagram.
Also, more of Instagram's users are female so if you want to promote your product targeting females then you should join the Instagram.
29% of online females using Instagram.
22% of online males using Instagram.

The following two tabs change content below.