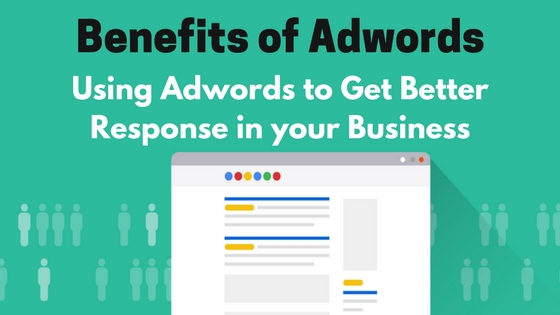 If you ask me how often do I browse, then I'll say that I can't survive without internet. For me survival is difficult without internet. In today's world advertising your business online is an excellent option. Do you know 90% of all google searches are for product and services? Every search in google represents a need, a desire and solution to a problem.And Google Adwords is the most useful platform to advertise your business. There are many benefits of Adwords for businesses which provide huge responses.
The best part of it is that you don't have to waste money on advertising your product to people who are not interested in what you have to offer unlike the traditional way of advertising. Google Adwords allows you to focus on targeted people who are searching for what you have to offer.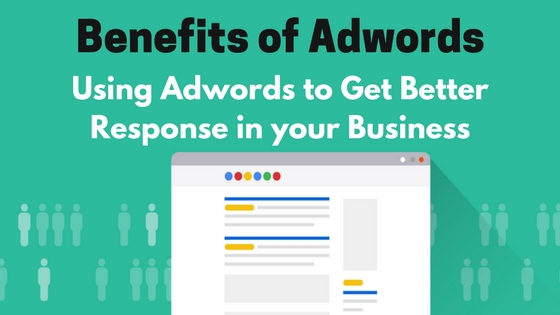 Benefits of Adwords : Using Adwords to Get Better Response in your Business
Few reasons of Google Adwords popularity
1. Small Initial Investment:
Google AdWords is extremely cost effective because cost deducts per click bidding, you only pay when someone clicks on your advertisement not for how many times your advertisement has been shown.
In comparison to the traditional way of advertising like TV, magazines and radio where it does not matter how many people see your advertisement  or how many are interested. You always have  to pay set rate for that. With AdWords you can set your own budget daily, this helps you to use your marketing budget much more efficiently and effectively.
In adwords we usually bid for different keywords (that are relevant to our tasks). Next step is to analyse that which keywords are performing well; identifying keywords with undesired results.As per the analysis report, bid more for keywords generating better results. The keywords with more clicks but less conversions can be removed or can be used with lesser bids. Adwords allows us  to set and monitor our budget in our campaigns & also controls its expenditure.
2. Measurable Result:
With google AdWords, you can measure your success. In comparison to traditional marketing, Adwords is more transparent and highly measurable. You can measure stuffs related to a PPC campaign from costs, profits, views, clicks, visits and much more.
Suppose a keyword or campaign performs well then you can track its report and use it precisely with a high bid in future to increase traffic of your business. On the other hand, if a campaign or a keyword which is not performing well, can be removed easily. You can track success and failure in real time and take the next steps cautiously for future marketing.
3. Location Targeting:
With Adwords you can make sure your advertisements are only seen by searchers in your location. If you are a locally based businessman or a regional company then targeting right audience at right location is very important. You can target location according to your consumers. AdWords allow you to Choose language and geographic locations such as a country, region or city where your customers are located.
After you set these targeting options, AdWords determine to whom you should show your advertisements on the basis of several factors like the Google domain which people use, their search term, their computer's IP address , their language preference set for Google, and the languages of sites they visited in the past.
4. Remarketing:
The Remarketing features of AdWords let you show advertisement to people who visits your website. It shows your ads to users on the basis of their past activities on your website. In Remarketing advertiser can follow users and show advertisements to them across google's large network.
For example, if a person visits your website and checks product, but don't take necessary actions then you can reconnect them with the help of remarketing tool of AdWords by showing relevant advertisements to your audiences.
When someone  browse internet, they see your advertisements. In this way you only spend money on advertising only to those who are interested in your products and services, but have not decided to buy from you. Because he had shown interest into your product and services, he is more likely to purchase from you.
5. Control and Flexibility:
AdWords is the quickest, most flexible and user friendly form of advertising in the world.
You can decide who can see your advertisements.
You can monitor your daily or monthly budget and can also change it anytime.
You can write content of your advertisement.
You can make as many advertisements as you want with small variations.
You can specify certain hours or days of week on which you want to show your advertisements.
You can change your bid amount at any time for the default advertisement group bid or individual keywords.
Change the URL of your landing page as per your wish.
You can edit, deactivate, reactivate or remove your advertisements at any time run text, image and video ads
Choose the amount which you're willing to pay for a click.
This much flexibility is only on AdWords and no other platform.
6. High ROI:
No matter how good you optimize your Google AdWords campaign, it's important to measure your return on investments. With Google AdWords you can determine very easily profits or loss.If you optimize Google AdWords campaign according to approach that suits you and your business, then it will increase click rates and visits which will Lead to High higher return on investment.
7. Unparallel Reach:
There are currently over 3.4 billion internet users around the world with over 4 million searches every single minute on google. Using AdWords you can also reach search engines like AOL, Ask.com and others. You can advertise on youtube which is the second largest search engine around.
Google AdWords is a global market, person from any corner of the Globe can become your potential client.This will surely help you to attain a global reach with zero costs to set up your business at a global level online.

The following two tabs change content below.