Being a Business Owner, have you ever faced following problems during your Digital Advertising:
– Unable to sneak time for providing approvals to contents?
– Sneaking time for a regular meeting with your Digital Marketing Agency for campaign planning execution?
– Unable to monitor Digital Marketing performance by hired agency?
– Unable to make proper research for content curation or running a campaign?
– Posting campaigns that perform poorly?
– Missing important dates?
– Running out of content?
Well, you will be surprised to know that there's just "1" simple remedy to tackle all the above problems.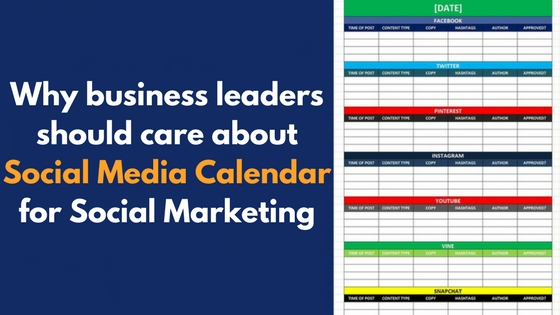 Why business leaders should care about Social Media Calendar for Social Marketing
Social Media Calendar:
The most efficient & effective strategy/technique/practice through which you can plan your social media updates. Adopting this strategy will make you more organised and accountable.
It enables you to leverage the best out of your campaigns by being better, faster, stronger, and just generally prettier. One can chalk out the posts for entire week or month on the same day and time every single week or month. That means you are prepared with your contents & campaigns in advance, that too for the entire week/month.
Simply schedule them for updating on various Social Media Platforms and sit back, relax, plan curate more contents, campaigns and analyse its performance, note down plus & minuses and use all the learnings to draw better results.
Why Business owners must demand Social Media Calendar from the Digital Marketing Agencies?
Well, the answer lies in the points discussed at the top. We all know, time is money. Sneaking out time to approve contents, suggesting changes etc. becomes a hectic task it often turns monotonous if done on daily basis. Who doesn't wants to sit back and finish tasks in advance and then using the remaining time for other productive works? Social Media Calendar works on same principle.
But that's not it, there are many other advantages as well:
Accountability: Calendars plays vital role in setting up deadlines. It helps us to prepare in advance accomplish a task before the deadline thus ensuring an efficient, result oriented campaign. Laying out a proper planning eliminates the hiccup of not knowing  what should be published on a particular occasion.
Efficiency: No one has extra time. Everyone wants to finish tasks in smart way. Planning your social media calendar makes you more productive & efficient, by saving your excess of time.
Effectiveness: Well, efficiency without effectiveness simply means poor result. Using a Social Media Calendar enables you to be prepared in advance, serving the best content to the right target audience on right time will improve the effectiveness of your campaign.
Organization: While using social media calendar, one can ensure things to be organized. And that's the best part of it.
How to build your Social Media Calendar:
If you are having a dedicated budget for social media calendar then you can use various apps or tools for this purpose. The most extensively used apps are Agorapulse, hootsuite, buffer etc.
However if budget is an issue for you then you can also prepare your social media calendar in following simple ways 1- Prepare a fresh Google Spreadsheet or an excel sheet.
2- In the above spread/excel sheet, create tabs for each month. Also, create tabs for the number of weeks days in a week, as per your requirements.
3- Fill the columns rows with month, days, weeks, date, social media platform, time, content etc. All as per your necessity
4- For convenience use better colouring mechanism in the prepared rows/columns.
Congratulations,In the above 4 steps, you have successfully prepared a template for your Social Media Calendar. Half work is done.
How to use Social Media Calendar?
Well, it's as simple as cutting butter with a hot knife.
– Enter the contents of the columns/rows that you have made in the calendar.
– Fill the social media contents/messages that you want to publish in your page on a particular day, on a platform, at a particular time.
– Plan in advance. Create a Social media strategy for the entire week or month.
– Curate contents & prepare creatives for your posts in advance.
– Fill all the contents in the social media calendar.
– In the end, just copy and paste your contents in the platform on that particular day, at the predefined time.
– Repeat the steps for saving time and getting desired results from your social media campaign.
How we make Social Media Calender
Being an ace Digital Marketing Agency in Central India and having managed more than 300 Social Media Clients in last 5+ year Konsole Group has identified various such hiccups that hinders smooth functioning during execution of a social media strategy.
And hence we have learned and evolved an innovative solution in the form of "Social Media Calendar". The best benefit it offers to an Agency is that it adds more sweetness to Business Owner – Agency relationship by yielding best results.
If you have any doubts, Post your queries on comment section. Do subscribe our blogs for latest industry updates.

The following two tabs change content below.