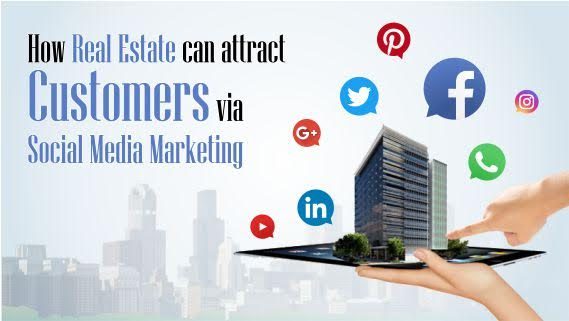 What is social media
Social media is broadly comprised of Facebook, Twitter, Youtube and Instagram which brings a huge amount of audience with them over a similar platform i.e to make new connections or communicate with existing ones.
By being on social media Real Estate organizations can easily attract their targeted audience without taking much time from their daily life cycle because time in present scenario means Money.
What is Social Media Marketing:
Marketing is the process creating buzz among the target audience and make them aware of the presence of the brand, product or service. Social Media Marketing refers to create this buzz over social media platforms.
For Real Estate, marketing is an essential tool to grab the attention of target audience, which is usually being done by traditional media advertisements Like Newspaper, Hoardings, TV advertisements which are quite expensive.
Marketing projects over social media will take this process over a larger group of audience and during their free time, so that they can think of it, peacefully.
In social media marketing, a business can share the activities related to Launch of projects, Seminars carried by organization and events on Facebook, Twitter, Instagram, Youtube and much more platforms. This process acts as a spokesperson of organization for their target audience to which the audience react with Likes and Comments which leads to communication between audience and Organization.
How Real Estate can attract customers via Social Media Marketing-
1.) Attracting new customers via videos or Photos of projects –
Real Estate customers want the experience of product or service before making the final purchasing decision. Businesses can create a high quality animated videos relating to proposed project, its ambiance, layout, interiors and sharing them from their official social media account or pages, this way businesses can reach to a potential customer and impact their mind.
Example : 

Link: https://www.facebook.com/Prestige.group/videos/10151723736396244/  
 https://www.facebook.com/Prestige.group/videos/101531205482053
These are the links of video and is taken from Prestige Group, Bangalore. They always create a VFX video of their proposed projects and share it with their Facebook page. With these videos, they demonstrate their overall project layout, the design of apartments and buildings from exterior and interior.
This builds trust for the builder and the project during current and future decision making to buy house and clarity about offerings because "Aaj ki date me, Jo Dikhta Hai, Wahi Bikta Hai"
2) Quick to respond to Queries of Audience
Real Estate organization's presence on social media will make it reach to a large audience and by sharing the projects via videos or photos will create an interest of the audience of the page towards making buying decisions. On the initial stage, they might have queries related to project which they expressed in form of comments. Fulfill the queries to convert them to customers from being audience
Example: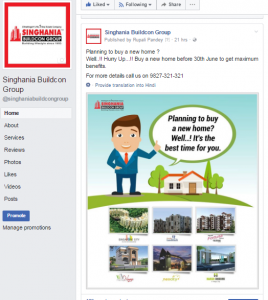 Link: https://www.facebook.com/Prestige.group/posts/1554986737853863?comment_id=1555047987847738&comment_tracking=%7B%22tn%22%3A%22R0%22%7D
The above post is taken from  Prestige Group's new project and its  Facebook post, upon which a customer was eager to attain more information related to it. So they made a reply at instance with a link to provide prestige group information of customer and they will get back to customer ASAP.
It shows that the organization is also concerned about the customer's queries and is ready to clear each and every doubt instantly.
3) Regular interaction with Audience:
Real Estate organisations makes a regular interactions with audience in the form of wishes or greetings. By making regular posts over occasions and events will engage the organisation with customers which create a good image about organisations in the mind of audience and it will ultimately  pay off when they make a decision to look for a new house.
Example :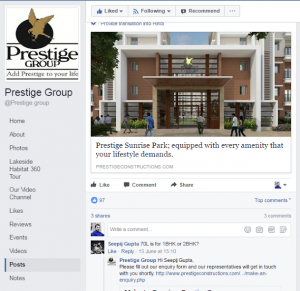 The above post is from The Prestige Group. They are always connected with their audience with wishes of events, festivals and occasions which shows that organization is concerned about their audience.
They also share interior decor contents for all audience who might not be their customer as of now but they build their traffic of communication with them to attain their goodwill in their mind,
This helps them to attain customers as they might refer Prestige Group to their relatives and known ones this creates a positive image of organization in the minds of audience.
This shows that the organisation is marketing themselves not only to attain new customer but also help their audience to modify their house to a modern one because "Jo bolega wo payega, jo chup rahega wo khoyega".
4) Create word of mouth by posting appreciations by existing users:
Real estate organisations have a good number of existing customers who are satisfied with their service and experience. By sharing their experience in posts over the official page of organisation will create a word of mouth in market and can attract new customers easily with influence of those videos.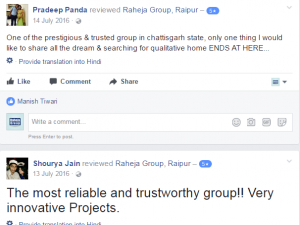 Link: https://www.facebook.com/pradeep.panda.1232/posts/10204980712596251:0
The above post is taken from Raheja Group. Word of mouth means, one person referring some product or service to other because he had some better experience with them.
By doing so Raheja Group is showing that they already have happy customers with them who are satisfied with every offerings. Before making any purchase decision the individual observes the experience of existing customers. This helps organisation to attract pool of target audience easily and effectively.
This works because you are already showing some satisfaction and satisfaction pulls satisfaction.
5)
 Release top management Videos relating to work carried within Organisation:
For sector like Real Estate this could be a vital step, hence by releasing videos of top management talking about Mission Vision related to a project can largely impact the decision and view of customers related to a brand, project or decision.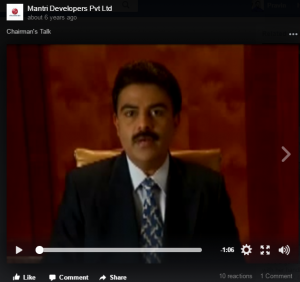 https://www.facebook.com/MantriDevelopersPvtLtd/videos/1942745084645/
The above post is taken from Mantri developers, Bangalore. They had shared the videos of their top management taking about their organization's Mission and Vision this type of contents helps a customer to believe in their organization because it shows concern towards their investment.
This creates positivity about organization amongst audience and they feels secure while making a crucial investment decision. Because investing in a house is not a daily doze.
Conclusion:
As the source to market Projects the Real Estate organisations were largely dependents on Hoardings, leaf lettings and TV media which are expensive though they have a good reach with audience

With Real Estate industry requiring more and more exposure with audience, social media can be a platform to market their projects and services effectively as organisations can make their reach on figure tips with audience which is also a Cost effective process..

We have mentioned some points in our blog which can be adopted to have a good impact over audience. Giving considerations to those points Real Estate organisation can reach certain level of optimisation to market their projects over  social media platforms.

Konsole Group, Raipur has been a pioneer organization for creating an effective social media marketing campaigns since last 9 years. We have a best in team to handle all the concerns for an organization regarding their social media campaigns.

Currently, we are handling social media campaigns for the top most Real Estate organizations of Chhattisgarh.

If you are willing to promote your projects to a larger audience and with an up to date method, Konsole Group is always ready to help you up.

The following two tabs change content below.